This is the completed series of model
Zay Vassar
, who was traveling through Vegas on vacation.
You will recall this was the shoot where I threw out my back the first time.
To recap, theme for this was somewhere between
Lawrence of Arabia
and
Bear Grylls
...i.e., surviving in the middle of nowhere in a crazy
Technicolor
experiment.
Setup was super simple, and basically involved an
AB1600
+
Beauty Dish
plugged into the ol'
Vagabond II
. Full power, ~12-14ft, f/13, 1/250. Gave a nice balance between the bright sky and background of midday Vegas in summer...a little dodge and burn completed the key shift.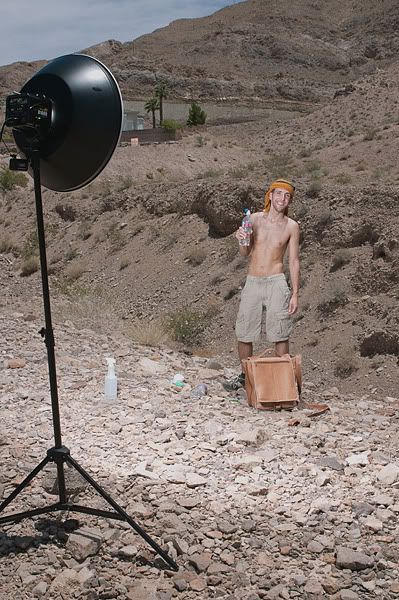 Apart from the near death of my spine, and walking farther than I thought up hill with tons of gear, the shoot went well, and he was a hoot.
Without further ado, les pictures (as always, click for a larger view):